LARGE VERSION MULTIBALER FOR BALING CHOPPED PRODUCTS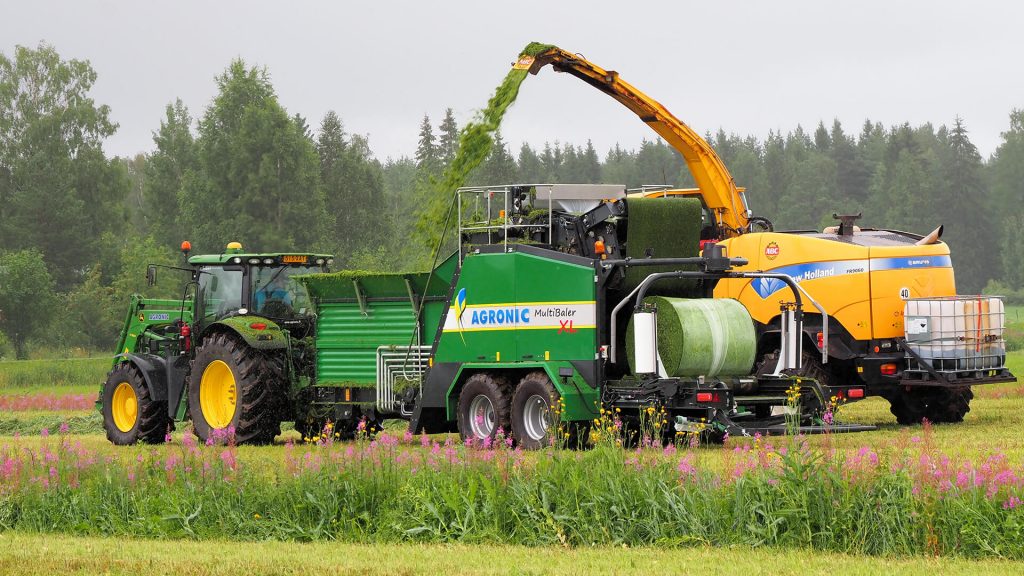 Staphorst-based Knoll introduces the Knoll Multibaler XL. The baler/wrapper combination can be used both stationary and in the field.
The new machine has been completely redeveloped together with partner Agronic Oy from Finland, says Jarold Knoll. "However, the construction method and usability are derived from the existing MultiBalers 820 and 1220." These were previously marketed under the name Agronic. With the introduction of the Multibaler XL, that too is a thing of the past. The machines will now be marketed as 'Knoll'.
Mobile
Knoll put a lot of emphasis on the mobile applicability of the Multibaler. He sees an increase in baling of maize, chopped grass, GPS, fibre hemp, beet pulp and the like. "Then it makes sense, if possible, to press the product where it is harvested." That is positive for feed quality and efficiency and has its advantages logistically, Jarold points out. "Especially as our bales contain more product in chopped grass, for example, than in a larger bale from a normal round baler."
The basis of the machine is a bale chamber made of wear-resistant material. The chamber is fitted with 17 HD press rolls, in combination with two PowerGrip-4 belts. These prevent material losses during baling.
Feeding rollers
The MultiBaler XL produces bales with a diameter of 100 to 115cm (variable) and a width of 120cm. Depending on material type and condition, the machine produces bales of 500 to 1350 kg. The bunker has a capacity of 8 cubic metres. Dosing rollers take care of the distribution of the material to the bale chamber.
Source: Melkvee.nl