The KNOLL MultiBaler 820 is a compact machine for processing short crops & materials into 'midi' sized round bales. Midi bales are ideal for users with a low feed rate and are very manageable due to their size and corresponding weight.
The MultiBaler 820 is the smallest machine in KNOLL's range of MultiBalers. Despite its size, the machine excels in performance and reliability. 
Many users worldwide use this MultiBaler 820 for varied work in different applications. 
THE MOST PRACTICAL WAY OF COMPACTING MANY MATERIALS INTO ROUND BALES!
The KNOLL MultiBaler 820 is the most suitable machine to compact different kinds of materials into round midi bales.
Think for example of maize, press pulp, chopped grass, straw and other high-fibre products. A high press density guarantees the best quality fodder!
KNOLL MultiBalers guarantee a high capacity (number of bales/hour). Sophisticated technology and an efficient process ensure the highest possible output.
Being a machine owner means paying attention to the Total Cost of Ownership. KNOLL machines are equipped with high quality parts and require little maintenance, resulting in a long service life and low cost per bale.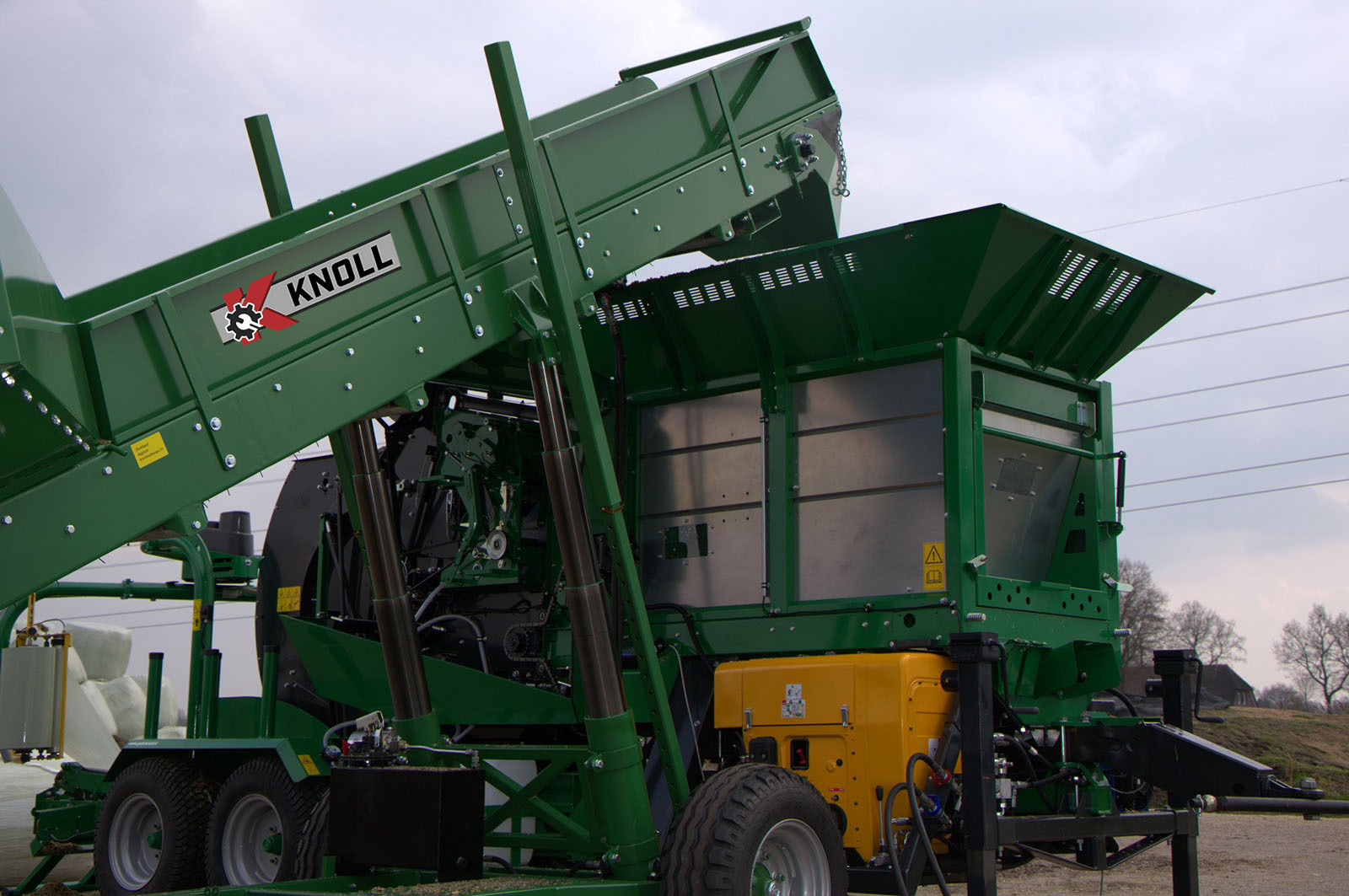 2.50 m3 INFEEDING BUNKER
A KNOLL MultiBaler 820 is equipped with a compact feed bunker with a capacity of 2.50 m3.
A bottom chain with conveyer bars moves the material towards the bale chamber. This "horizontal" method of feeding makes it possible to process many types of material without problems. Loading the feed hopper is possible in various ways.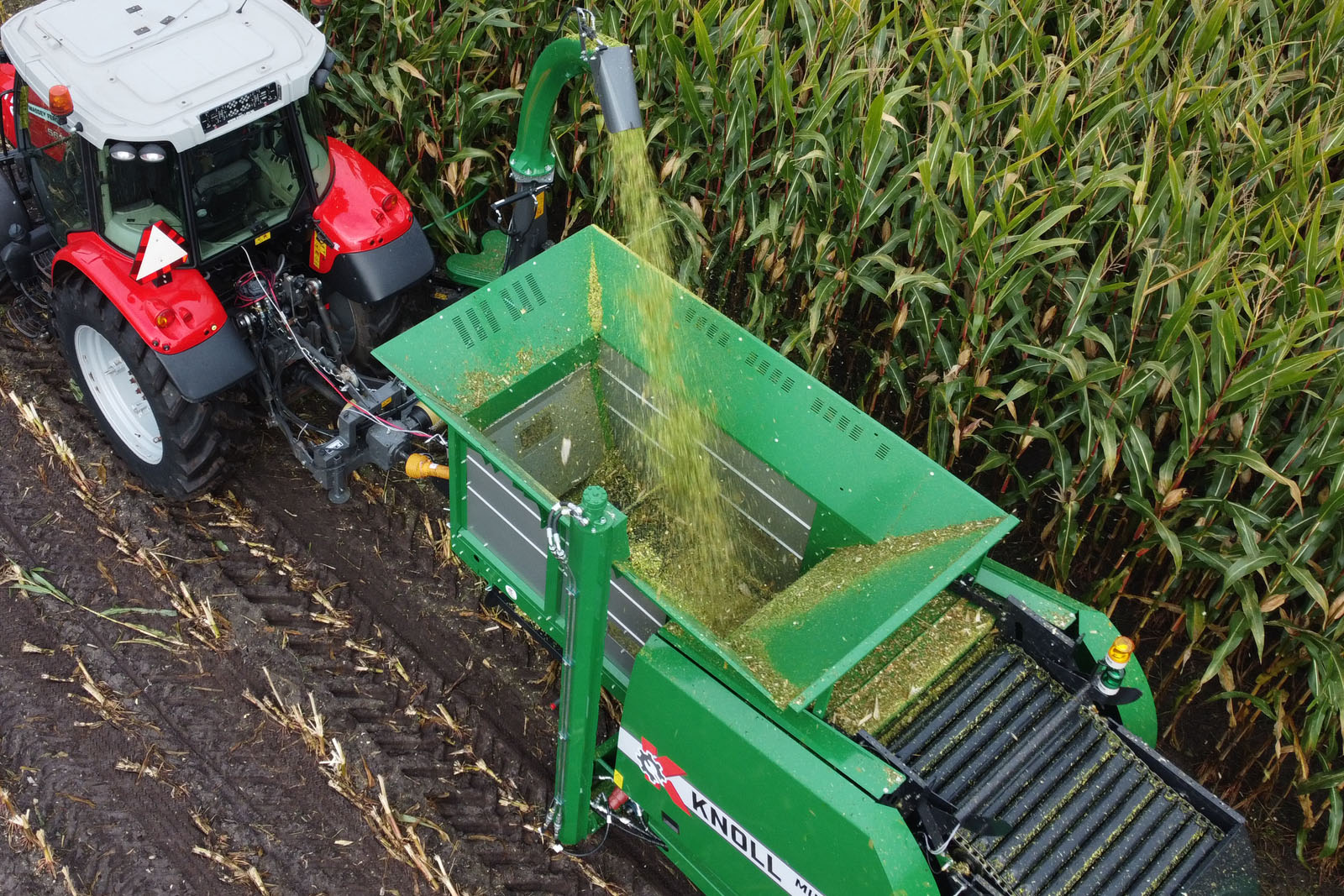 STATIONARY & MOBILE USE
KNOLL MultiBalers can be used functionally. Both mobile, directly in the field and stationary at a fixed location.
It is even possible to use the machine in one operation by combining it with a front- or trailed harvester.
For stationary use, a 'KNOLL Dropbunker' can be a useful tool to load the machine with a silage wagon.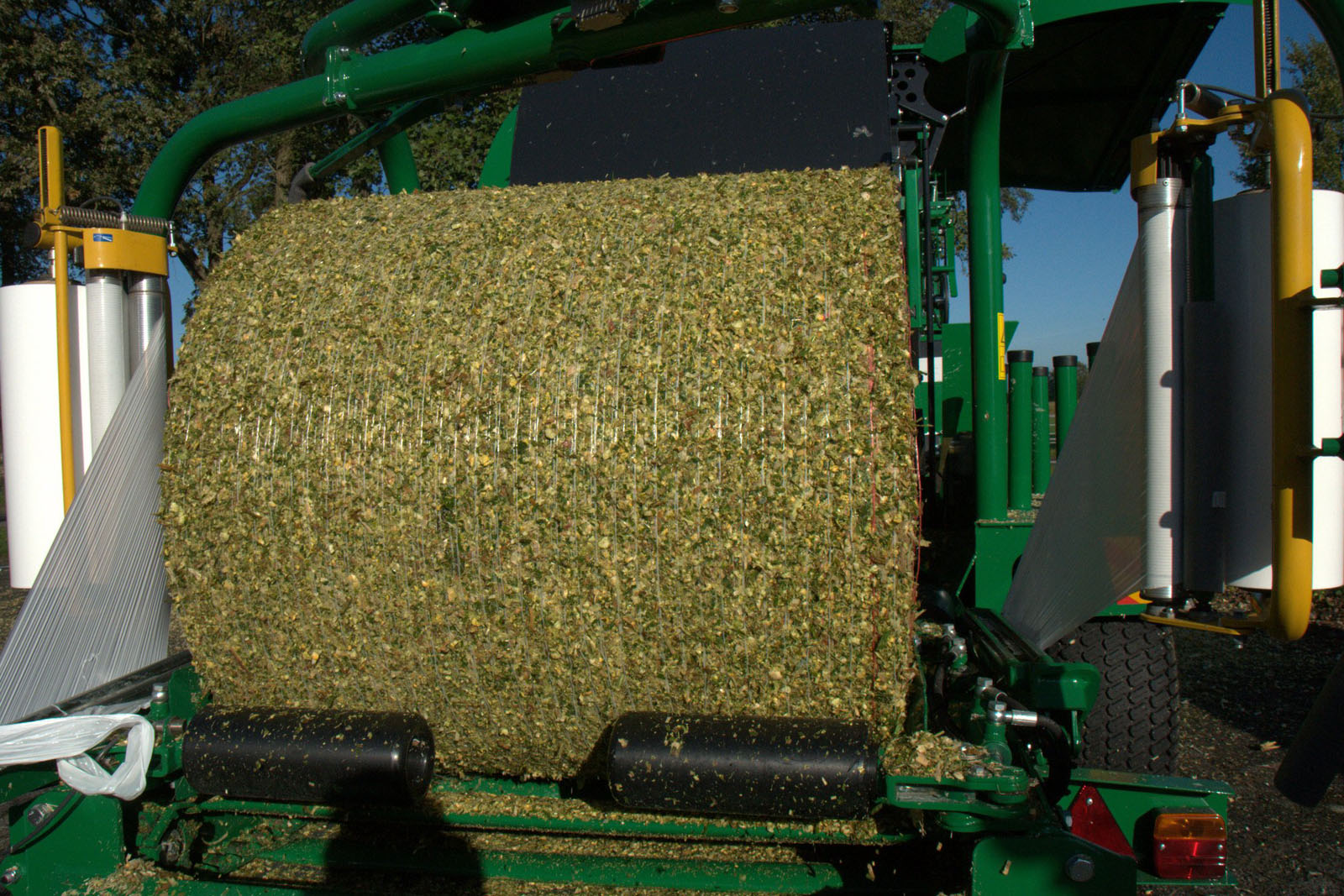 FOLIE- & NETBINDING SYSTEM
KNOLL MultiBalers are standard equipped with a binding system where both net and mantelfilm can be used.
The choice of net or mantelfilm depends on the type of material or the user's requirements.
In both cases the binding system of the MultiBaler 820 ensures a neat finish of the pressed bale, before it is wrapped.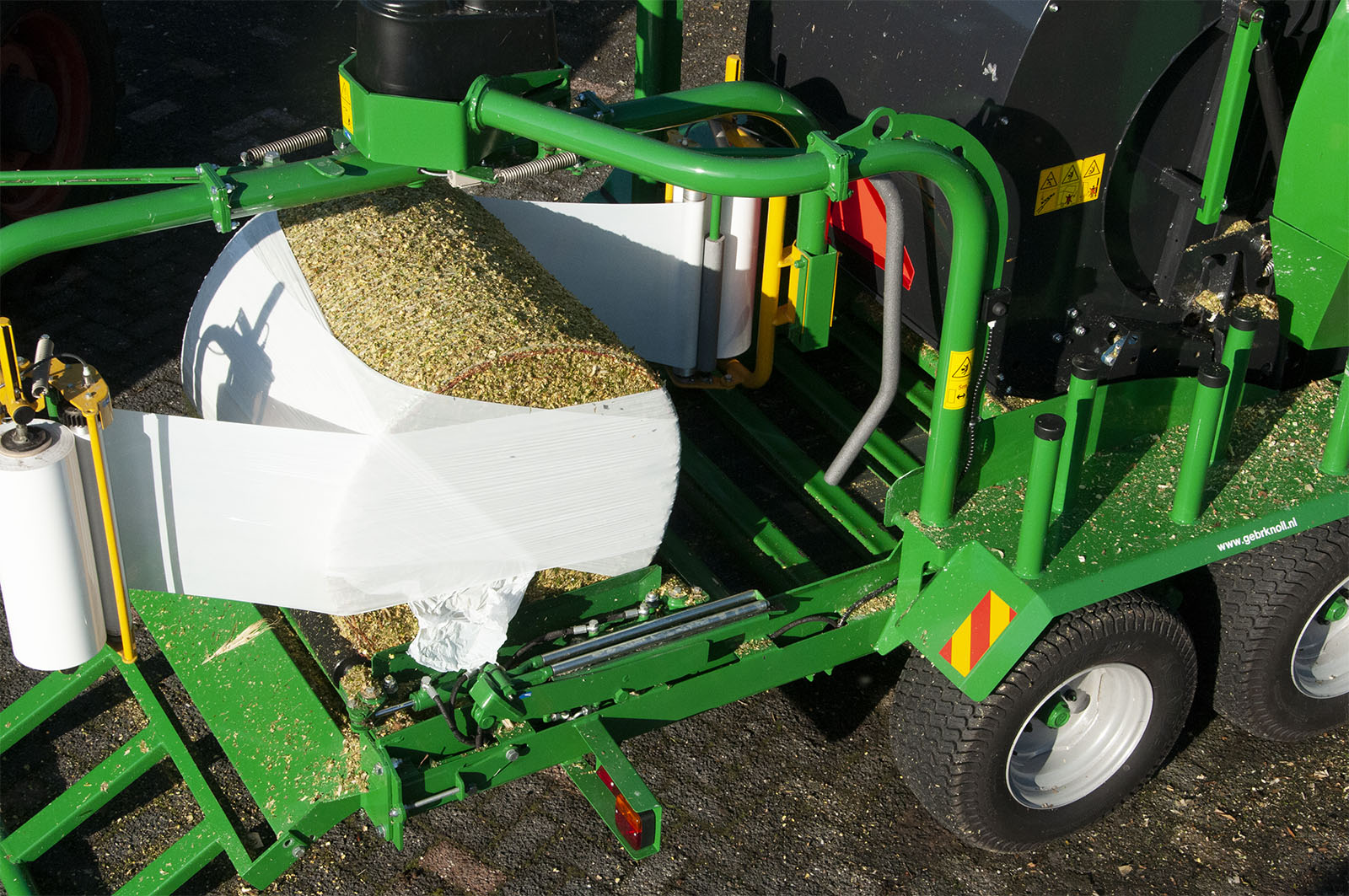 WRAPPING FOR THE BEST QUALITY
Good and efficient wrapping ensures the best quality bales. In the final step of the process, the bale is wrapped with film. From the bale chamber, the bale moves to the wrapping position. This 'smart' movement of the bale with a KNOLL MultiBaler ensures high capacity. The automatic wrapping system is equipped with film breakage detection for efficient operation without unnecessary downtime.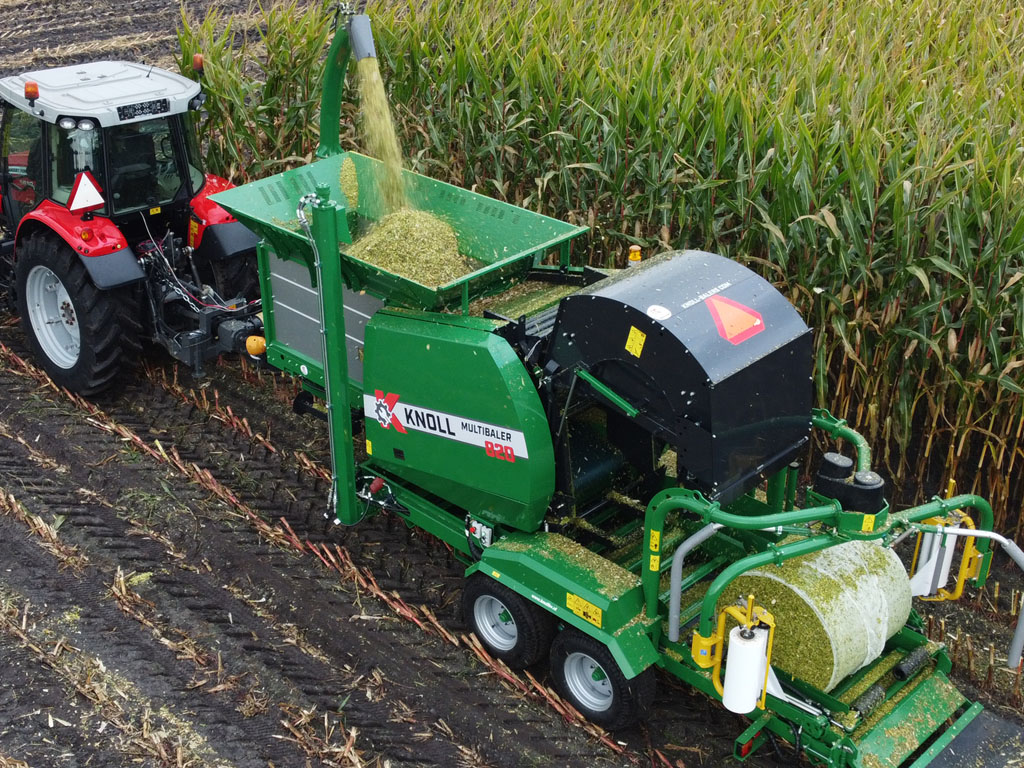 CHOP, BALE & WRAP IN ONE PASS
KNOLL MultiBalers are unique in their versatility of use. The MultiBalers can be used stationary at a (fixed) location, but are also very flexible in use by being mobile. This can be done on the road next to a forage harvester, or directly in combination with a front- or trailed harvester in one pass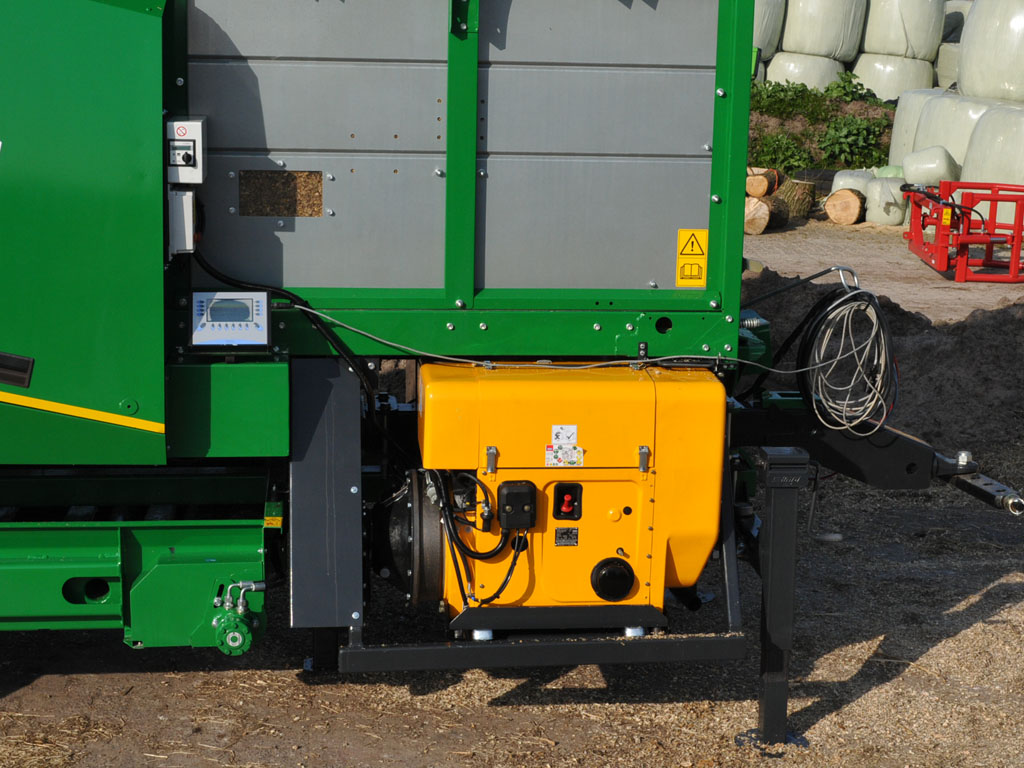 DIRECT DRIVE BY KNOLL DIESEL POWERPACK
A KNOLL MultiBaler 820 can be optionally equipped with a "Diesel Powerpack". This is a 3-cylinder diesel engine, mounted on the machine in a "silent pack". This option makes it possible to drive the stand-alone machine without using a tractor.

The tractor can be used, for example, for loading the machine or moving the wrapped bales. .
Watch videos and photos of the KNOLL MultiBaler 820 below.
See all features of our KNOLL MultiBaler 820.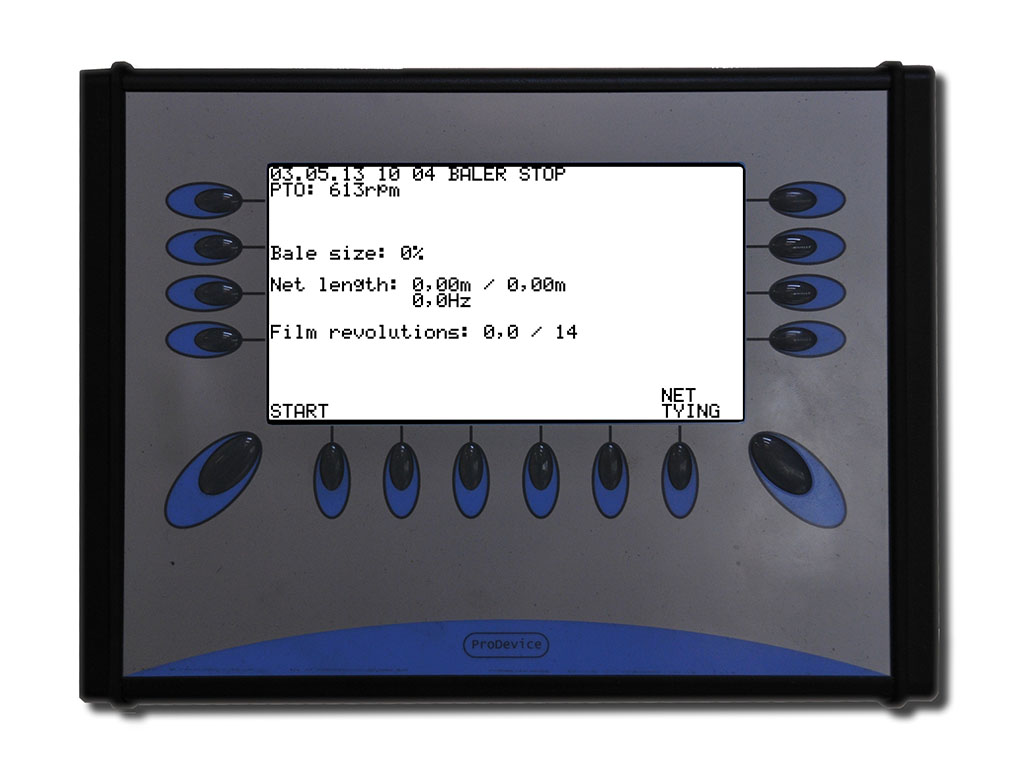 Reliable operating system
The machine is operationally controlled by a fully automatic control system. This system has been developed by our own software engineers, enabling us to optimise it for all applications. The multilingual control programme makes it possible for almost anyone to work with this machine easily.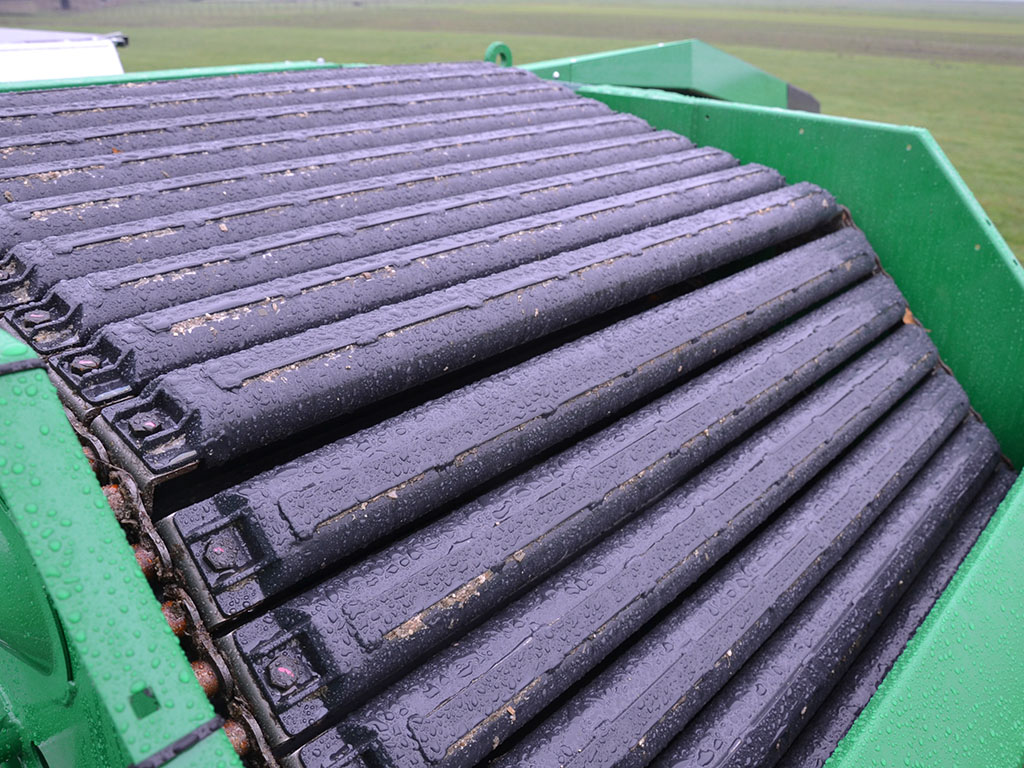 Variable size bales
The KNOLL MultiBaler 1220 is equipped with a unique bale chamber system. This system makes it possible to handle almost all short materials. It is also possible to bale variable sizes from 85 - 90 cm in diameter. Het perskamersysteem met 'stalen meenemers' zorgt voor een perfecte tractie op ieder soort te persen product.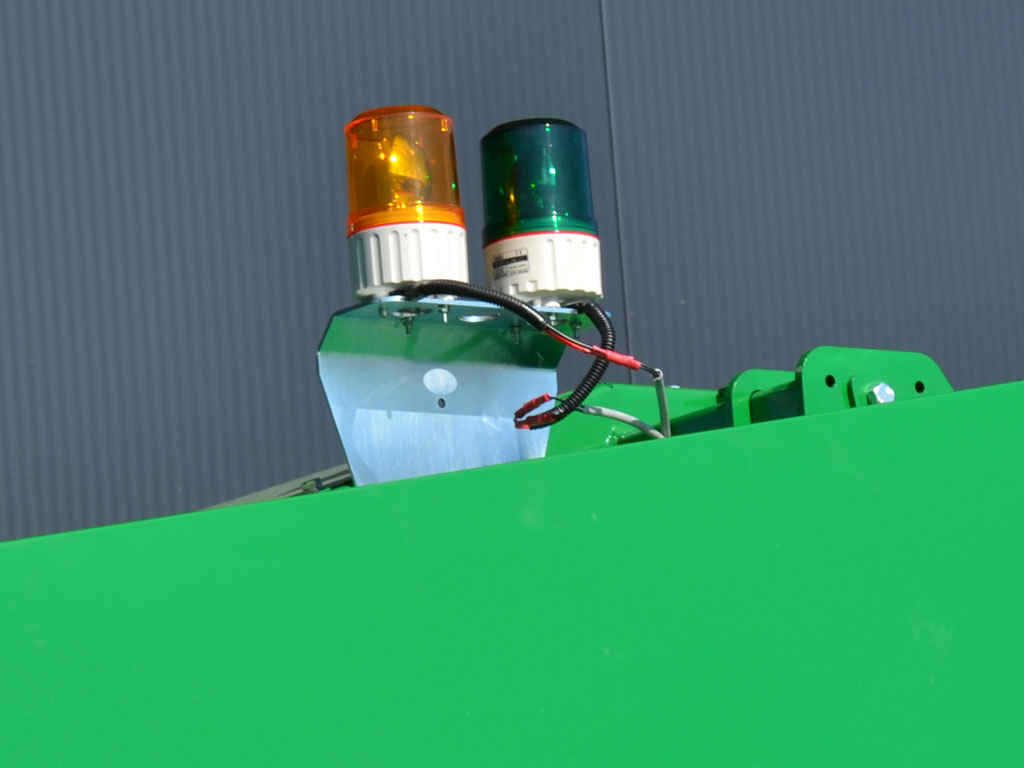 Indicative signal lights
The machine is equipped with two indicator beacons. These give a light signal during the automatic working process so that it is clear when the machine is feeding in material or when net/film wrapping is in progress. A buzzer also gives an acoustic signal before a wrapped bale is discharged.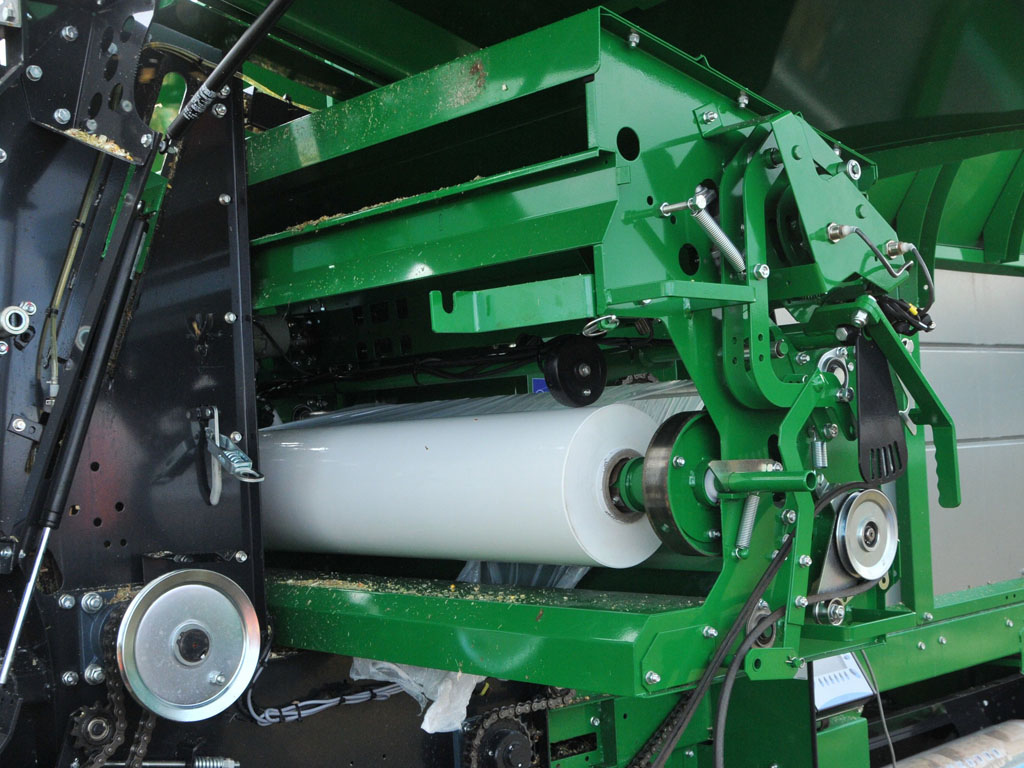 Film & netwrap system
KNOLL MultiBalers are equipped as standard with a binding system for both net and mantel film. This gives every user the choice of using the desired product for binding the bale for any application. Changing the system can be done easily by changing one setting in the control system.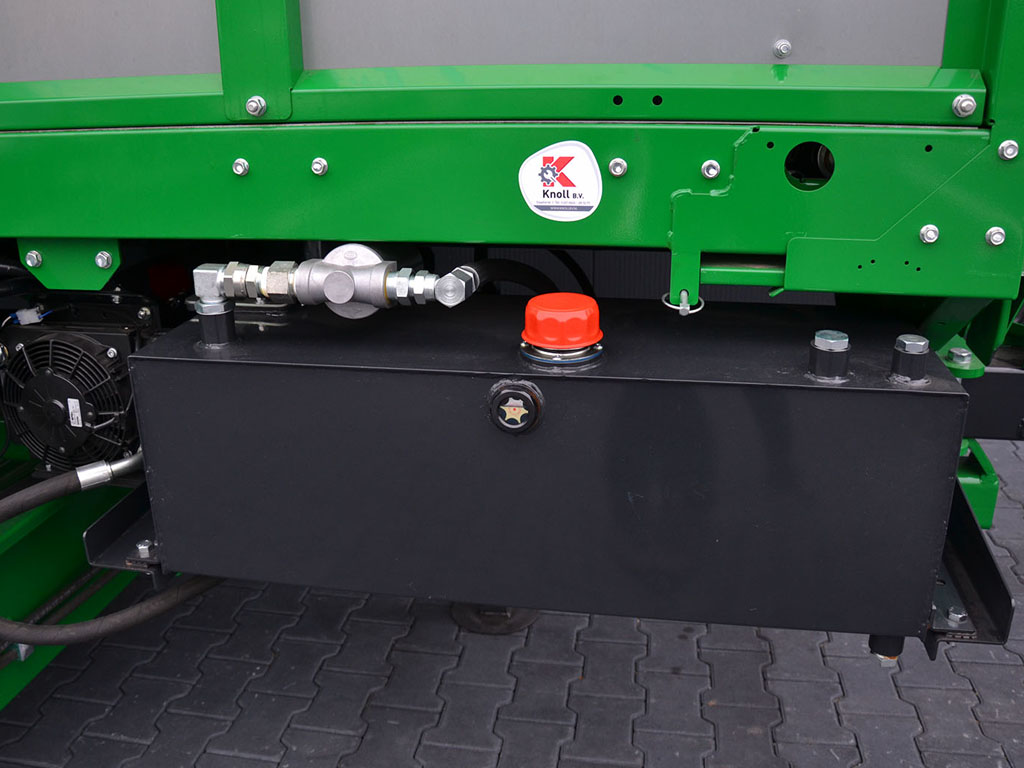 'On-board' hydraulic system
KNOLL MultiBalers are standard equipped with their own hydraulic system based on two oil pumps. An oil cooling system is also included. This system enables easy drive of the machines with only a 540 rpm PTO drive.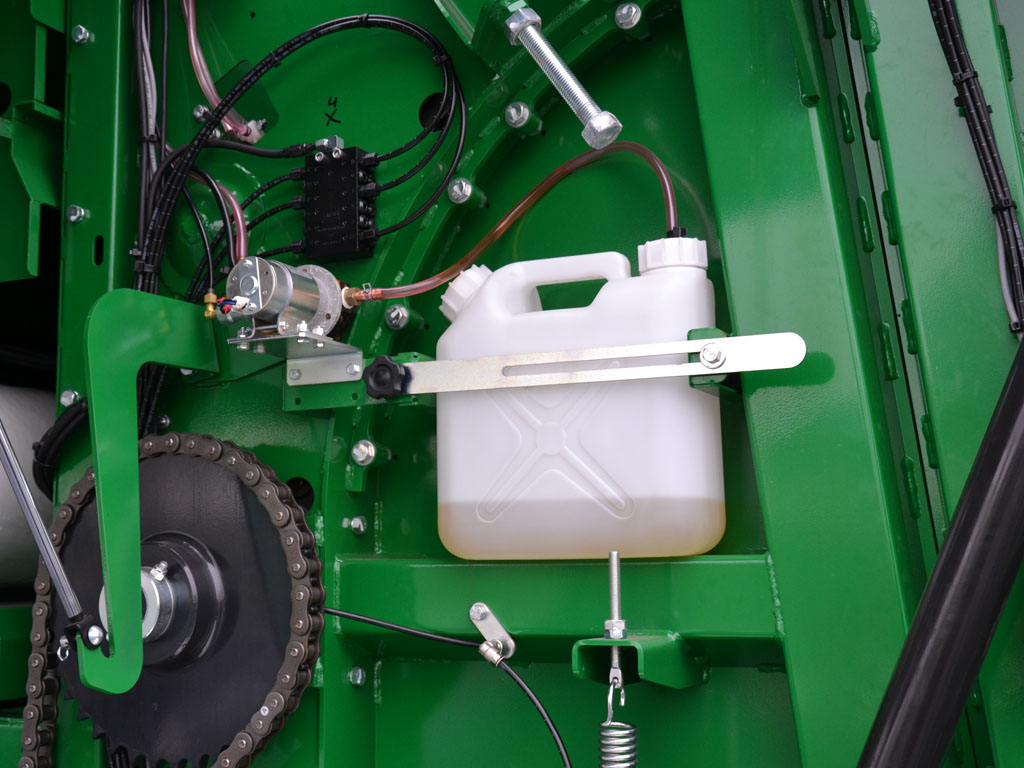 Automatic oil lubrication system
A KNOLL MultiBaler 820 is equipped with an oil lubrication system for the bale chamber chain as standard. This system provides continuous lubrication of the bale chamber drive chains. This is important for durable operation and optimum maintenance.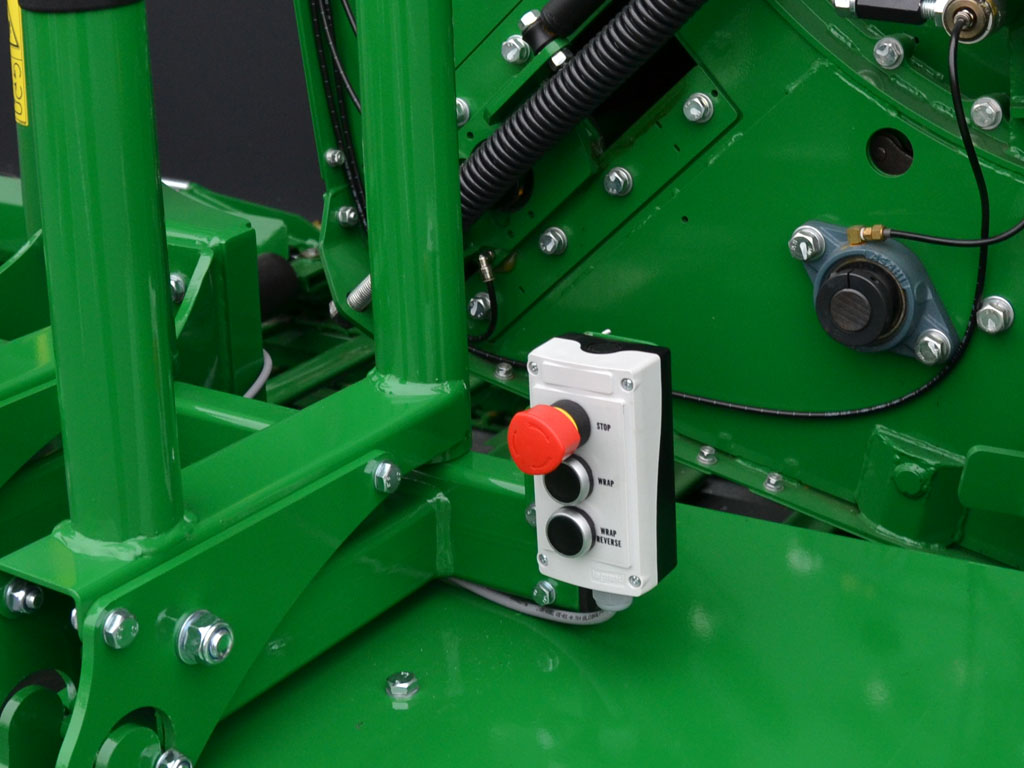 External wrapper control
The wrapping system of a KNOLL MultiBaler 820 is equipped with external control functions. This makes it possible to operate the wrapper or to restart it in case of a film breakage or an empty roll. In this way the downtime is reduced and the capacity is guaranteed.
Bale size ( width x diameter )
1-3/8" (6 splines) – 540 RPM
"On-board" hydraulic system with oil cooler

No connections neccessary
Electrical connections12 volt DC + road lighting

Electronic Control Unit (dust and water proof)
WRAPPING & BINDING SYSTEM

Double wrap arm with 500 mm film stretch units

Film binding and net binding

Film break detection system

Yes, automatic for both tie & wrap system

Extra storage of wrapping film (rolls)

extra storage mantelfilm/net ( reels )
Download here our digital brochure of the KNOLL MultiBaler 820.

Looking for working drawings, manuals or spare parts lists?
Please feel free to contact us.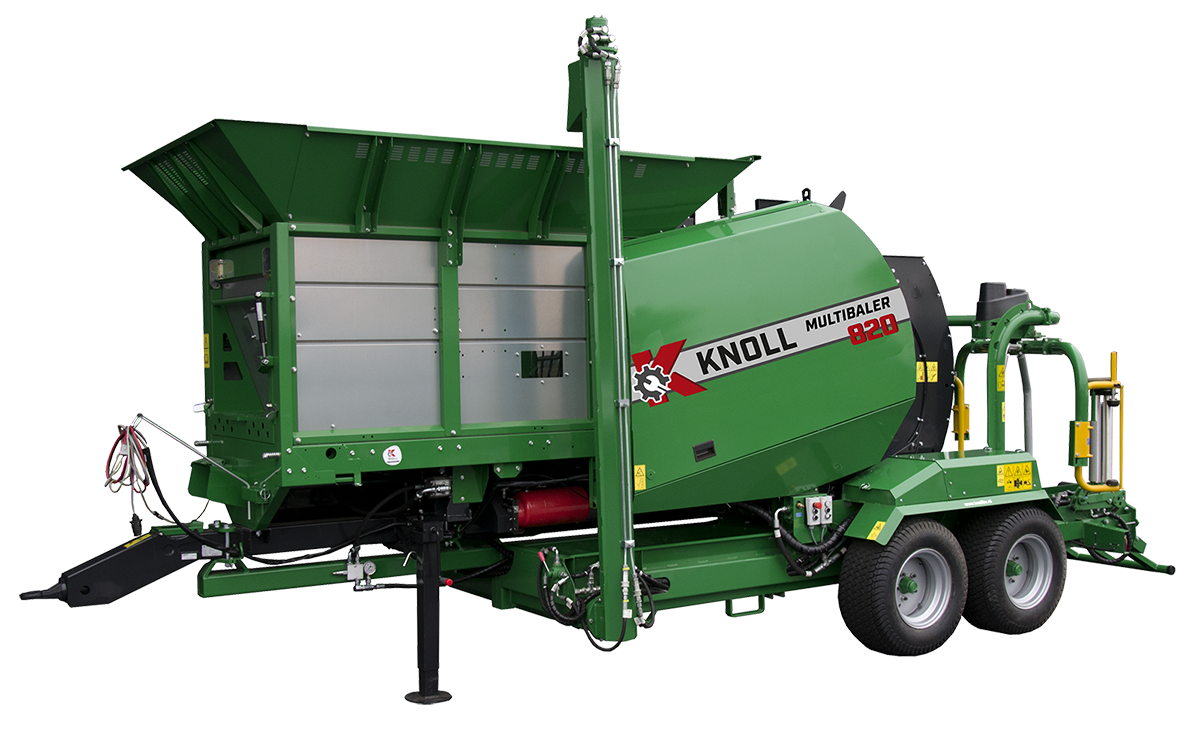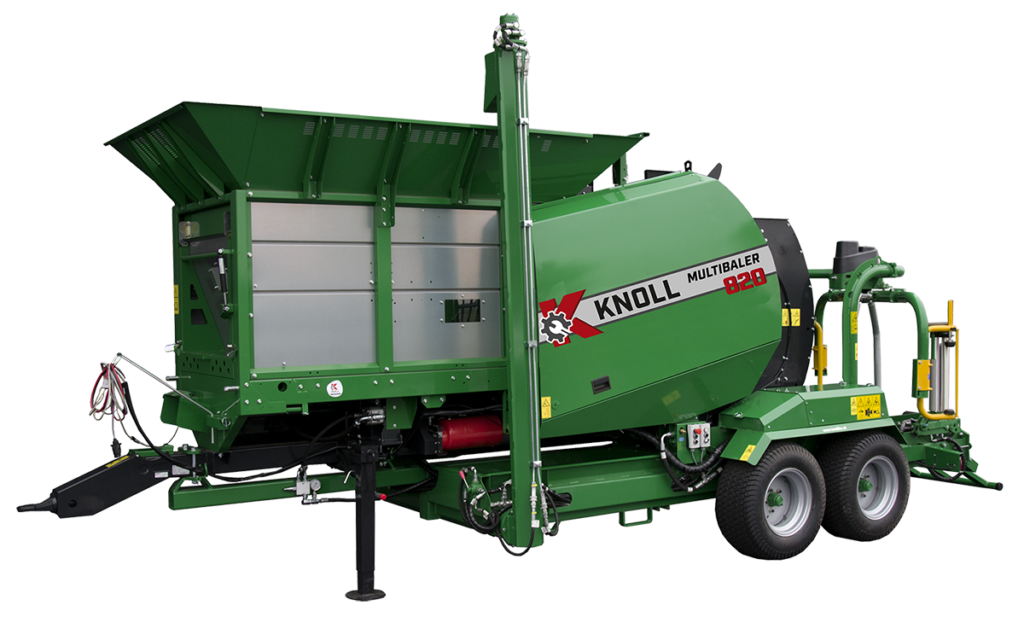 The processing of chopped and shredded crops and materials into high-density round bales is what the KNOLL MultiBalers excel at!
Our customers use our MultiBalers to bale a wide range of different materials.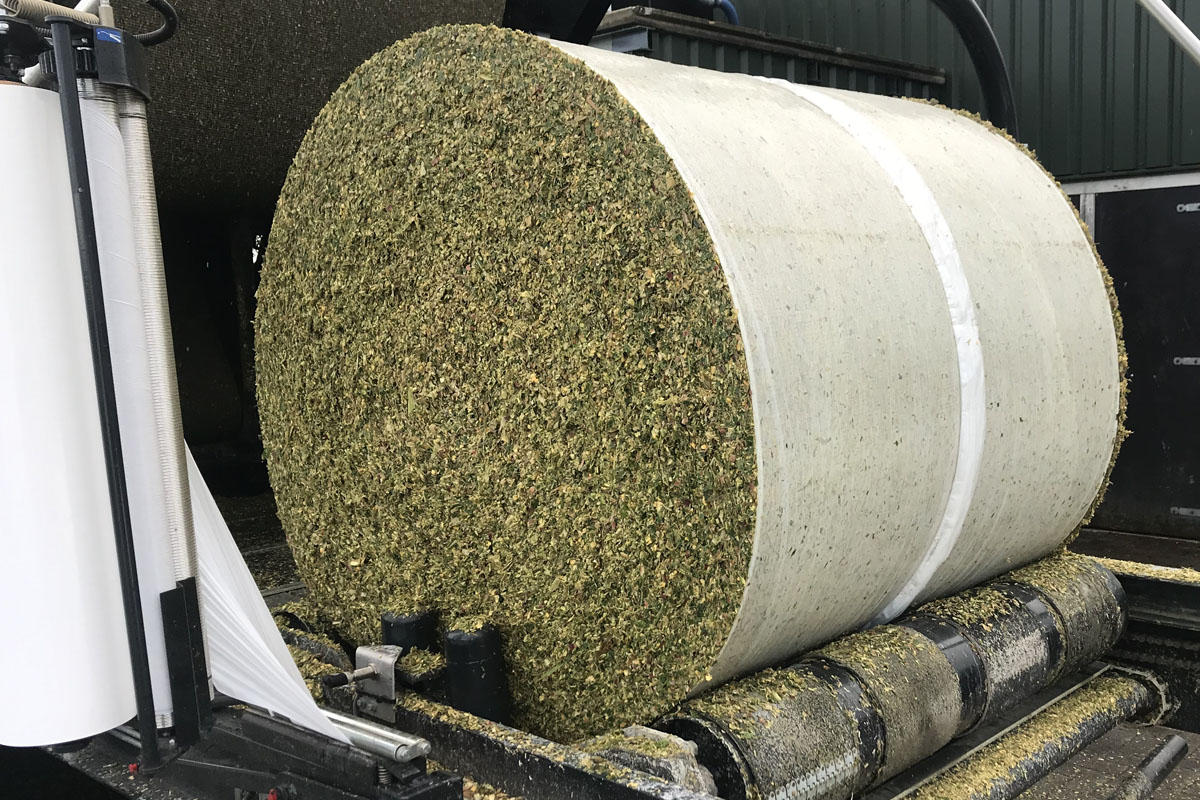 Maize/Corn Silage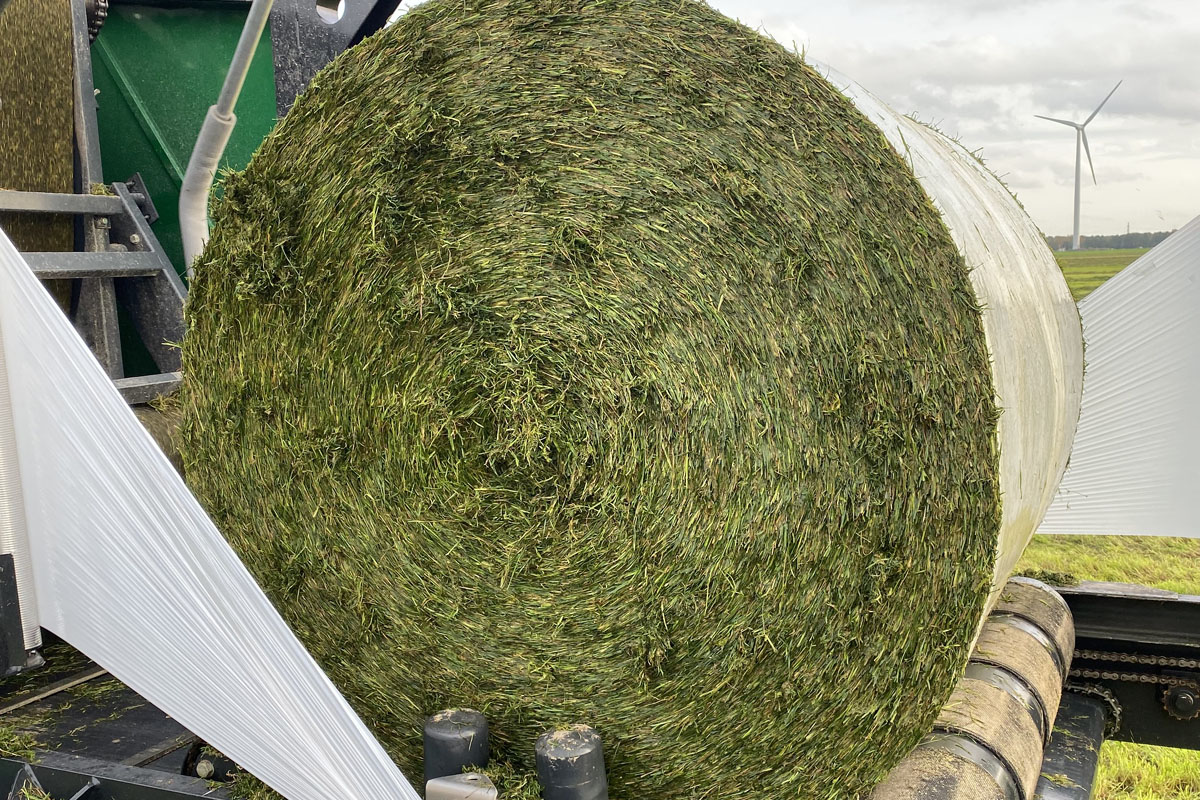 Chopped grass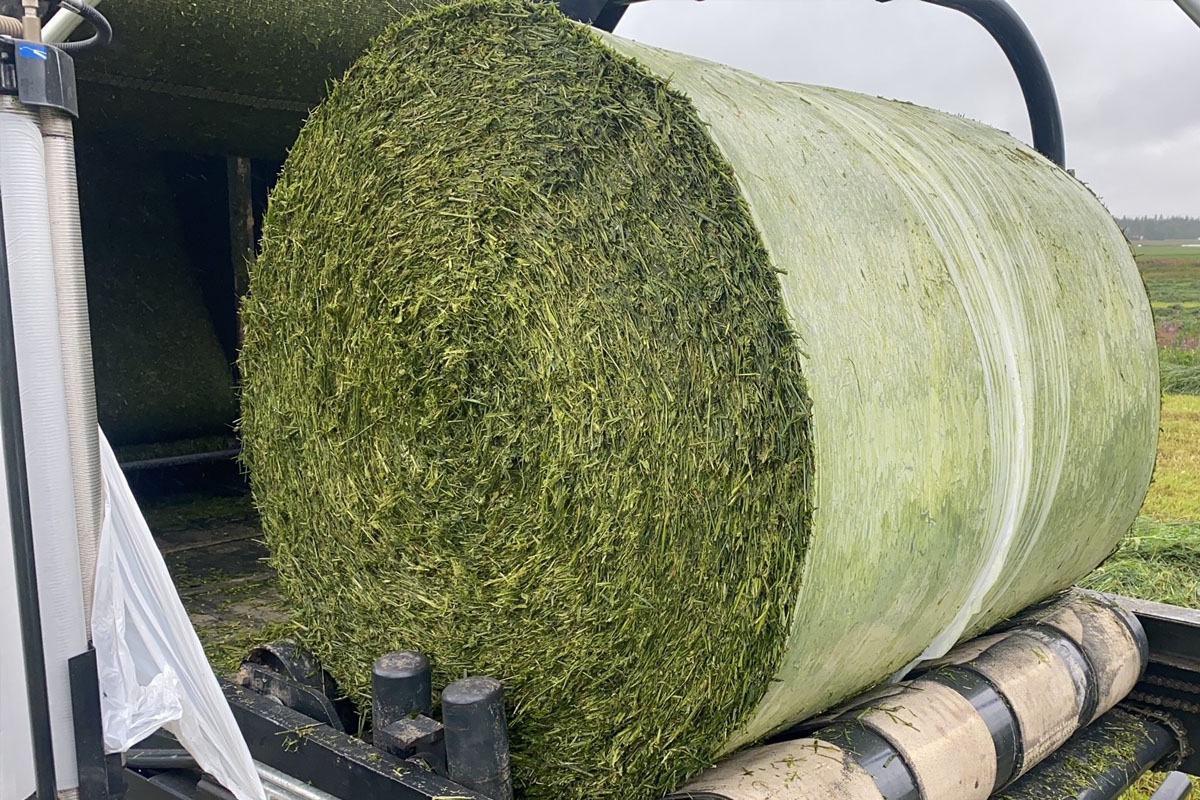 GPS ( whole plant silage )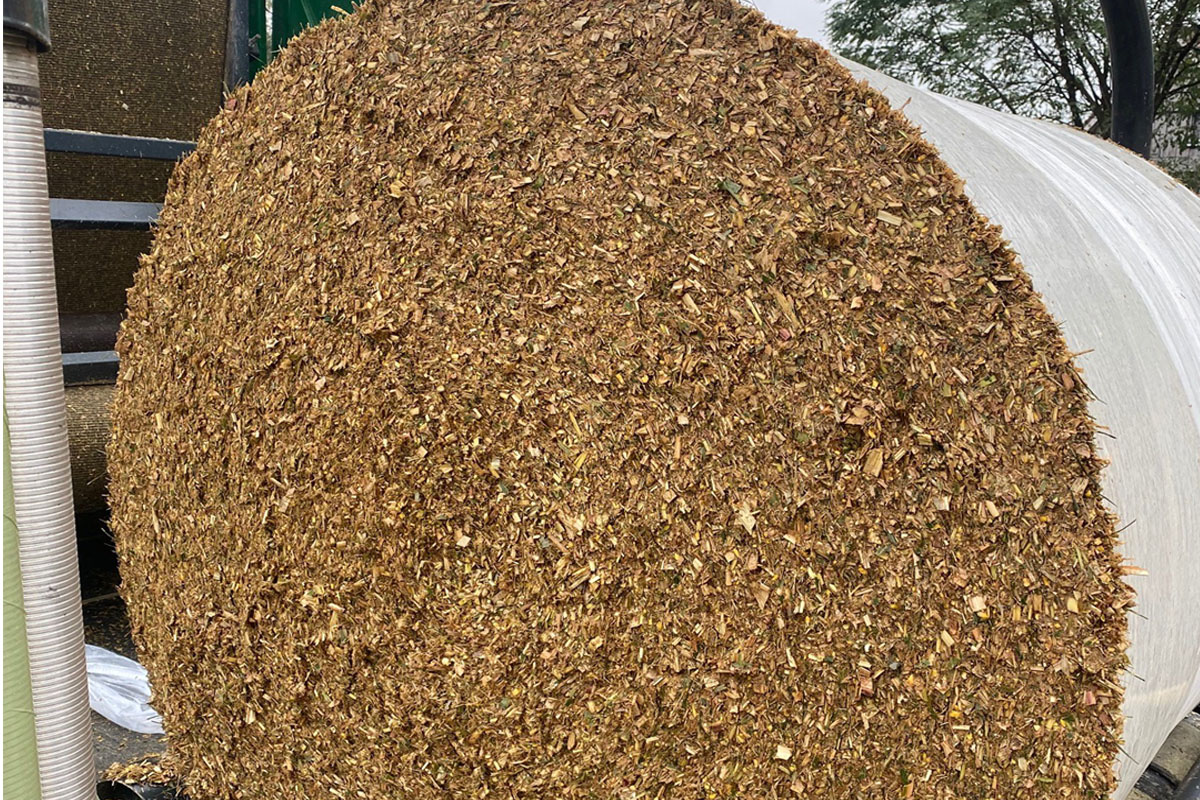 TMR ( Total Mixed Ratio )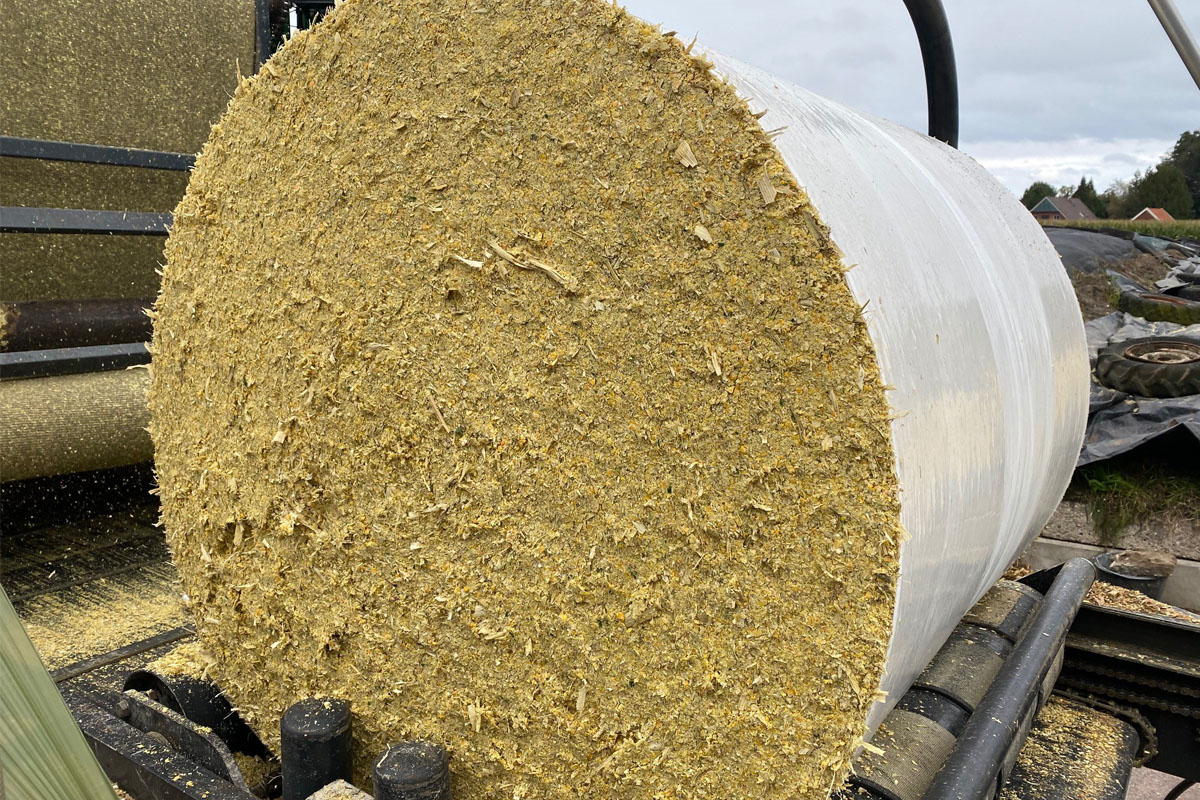 CCM ( corn cob scrap )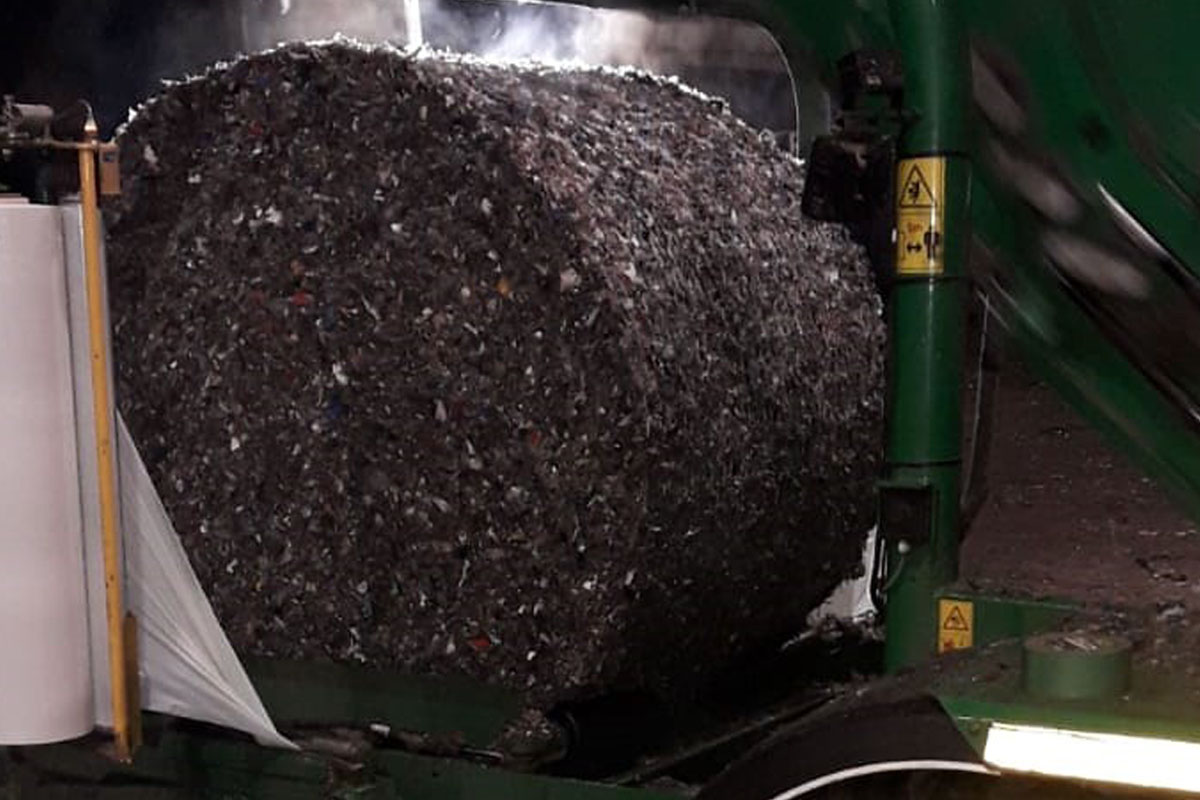 RDF ( waste )
Examples of other materials that can be baled with a KNOLL MultiBaler 820.

Alfalfa | Lucerne | Dried manure | Cereals | Wood chips | Sugar beet pulp | Peat | Hemp | Cotton | Plastic