Since 2008 Knoll B.V. from Staphorst has been producing baler wrappers together with the Finnish company Agronic Oy for midi bales. These machines are sold under the brand name AGRONIC, while Knoll B.V. is the official manufacturer.
In consultation with both parties it has been decided to change the name gradually to KNOLL. The first machine to be considered for this is a newly introduced MidiBaler, the "Knoll MidiFix II"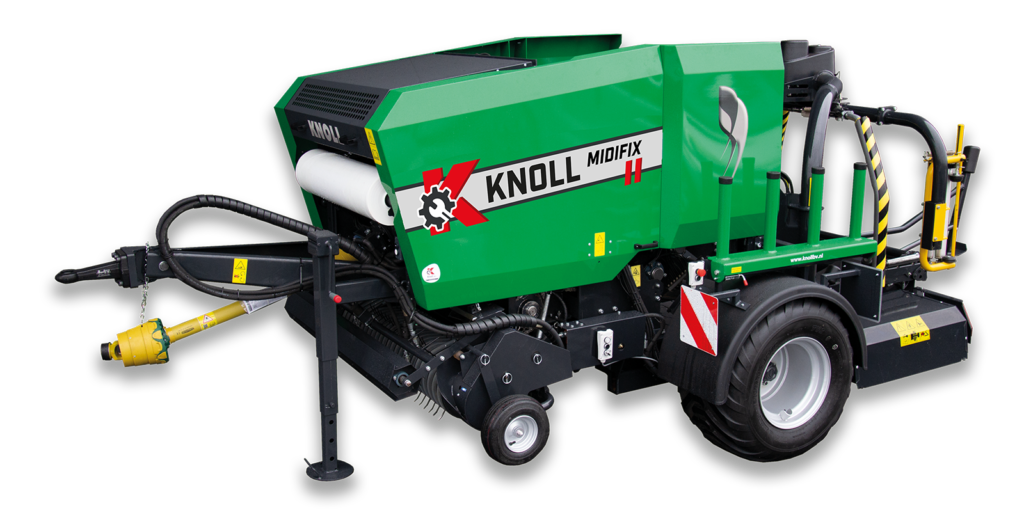 Introducing Knoll MidiFix II
The new MidiFix II is a further development of the already existing MidiFix, which has been on the market for a number of years and has gained a good reputation. Besides the new name and the new design, the MidiFix II has also undergone some major technical changes, creating an entirely new concept.
With this, Knoll B.V. responds to the demand from the market, which is becoming more and more professional. The Knoll MidiFix II is a completely new development and distinguishes itself by using new techniques.
Besides continuing to use the tried and tested bale chamber and pick-up, the machine has various new features such as hydraulic cutter and drop-floor activation and deactivation, proportional hydraulic system, new CrossControl canbus control with 7 inch touch screen monitor, new and faster bale transfer system of the wrapping table and finally a new top and bottom linkage to the tractor.
As an option, the machine can now also be equipped with a film-tying system. This follows the trend that has been growing in the market for large round bales in recent years.
We are also continuing to develop a weighing system and dry matter measurement to offer as future options.
Knoll MultiBaler XL
In the near future a new type of MultiBaler will be introduced. The Knoll MultiBaler XL is a large professional baler/wrapper combination which can be used both stationary and mobile to bale maize and all kinds of other shredded products like grass, straw and mixed bales. The machine can also be used to process various industrial products.
Source: Trekkerweb.nl